Back in 2014/2015 I used to run. It was infrequent, short, slow and contained a lot of walking. I mostly gave up at that point as my mental health had deteriorated to the point that it wasn't safe for me to run. In December 2021 I decided to put some shoes on and try again. Today I can run a half marathon and run 5km in under 27 minutes. Let's have a look at how I got to this point and why.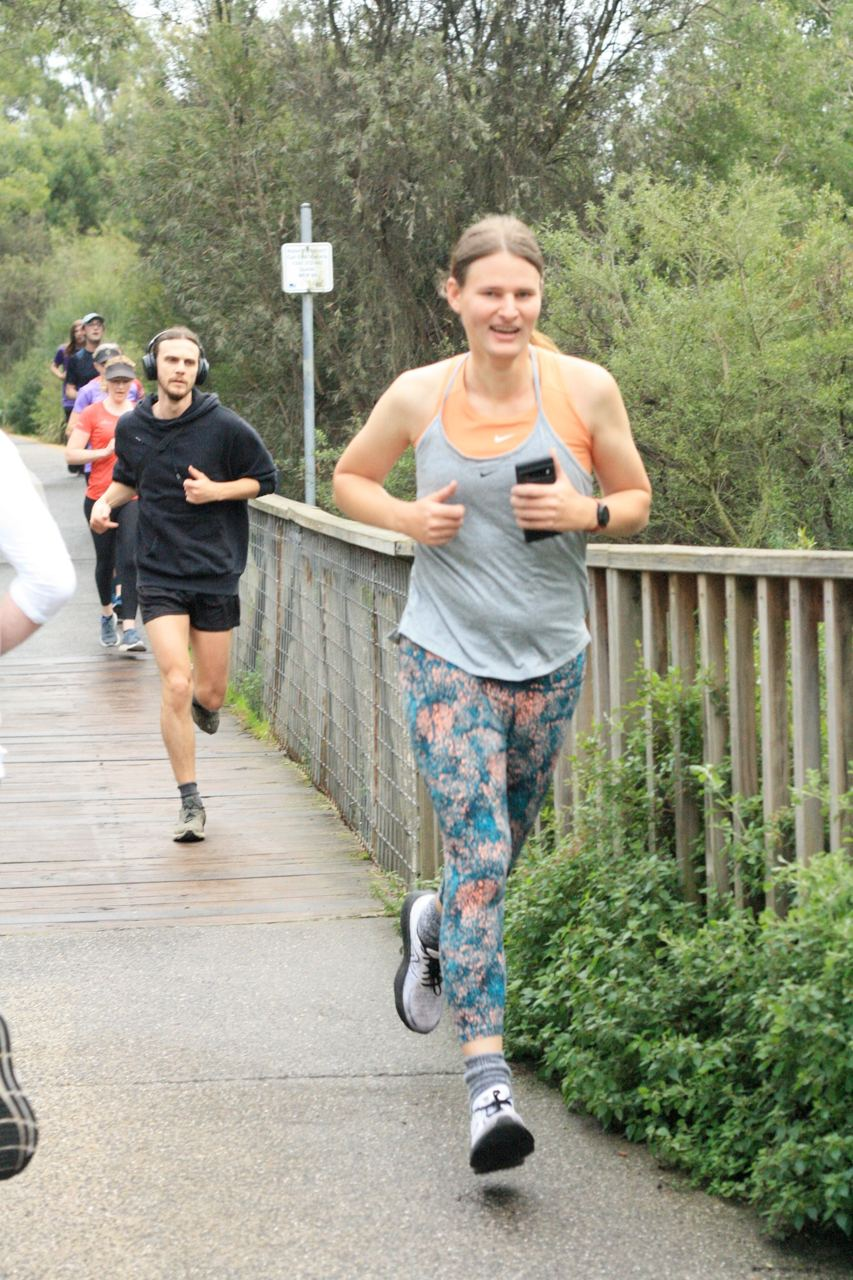 2020 - The lead up
What a year. In Melbourne we had 154 lock down days in 2020. However something much more eventful happened for me in 2020 - I started hormone replacement therapy (HRT). Starting very slowly and ramping up dosages over the year. This was an exciting and amazing journey that I'm extremely grateful to have happen but starting this journey during COVID lockdowns was not fun.
Our lockdown rules allowed for exercise times and distances - which I never really took advantage of. There was an emotional pain when returning home every time I did go out, so I chose to avoid that by never leaving the house.
The combination of HRT, a lack of my usual hikes/walks and a lot of comfort food eating put my body in not a great shape. I remember having this conversation with a friend.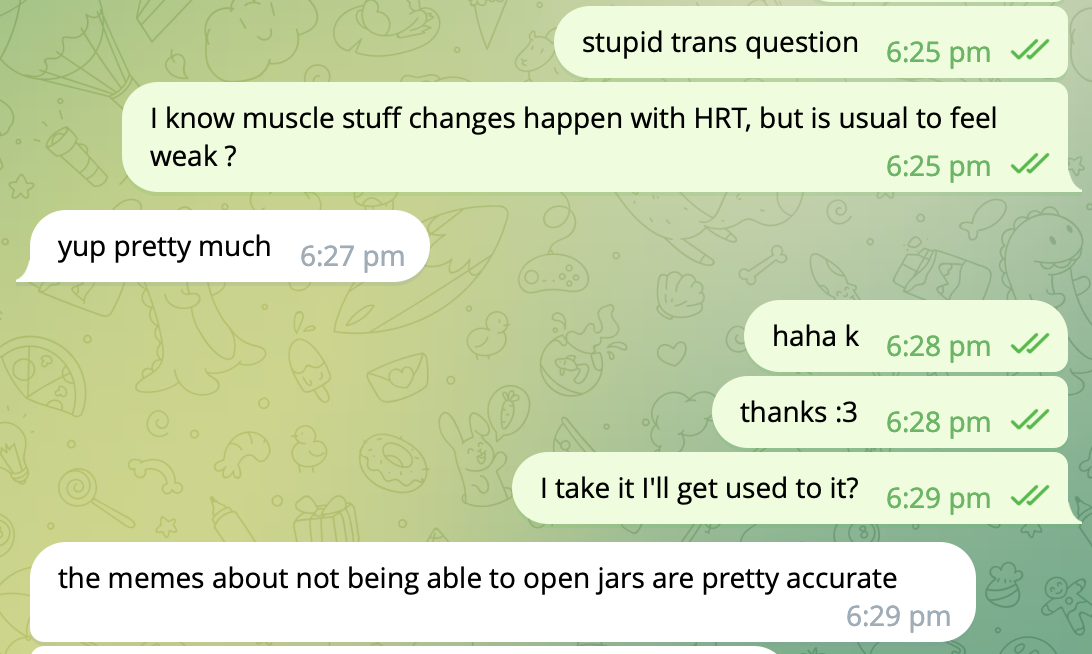 With lockdowns becoming less frequent I found myself hiking a little bit more with my partner and struggling to keep up or even make it. I also found myself becoming weaker and weaker. By December 2021 I felt I needed to do something about it and with some encouragement from Alex (who knew I used to run) I decided to reboot my running journey again. I set some goals:
Run 5km
Be able to keep up with my partner walking
Lose a bit of weight (through a better diet)
Feel strong
C25K
Couch to 5km (C25K) is a training program that uses timed intervals over a number of weeks to work up to running 5km. It doesn't specify a pace and most training programs under the C25K name are actually time based not distance based. I like to think of it instead as "Couch to 30 Minutes". C25K was what I was going to try to complete
If you're thinking about trying C25k, here are some of my tips:
Focus on the time rather than the distance. At the end of the program if you can't reach 5km in the 30 minutes, extend how long you run for by 1 or 2 minutes each week until you get to 5km.
Run on grass first - like a sports oval.
Repeat C25K weeks - you don't need to continue onto the next week if you don't want to. If it takes you 20 weeks to complete the program that's ok.
You're probably running too fast - try slowing down your pace.
Mentally I was in a better spot than way back in 2014 but I still decided to put some controls in place to make sure it was safe.
Don't run when angry or sad
Don't run on roads
Don't run at night (this one I broke a few times due to Melbourne's short days)
Later when I started doing 5+km runs I started using Garmin's LiveTrack feature and putting my partners mobile number on my watch face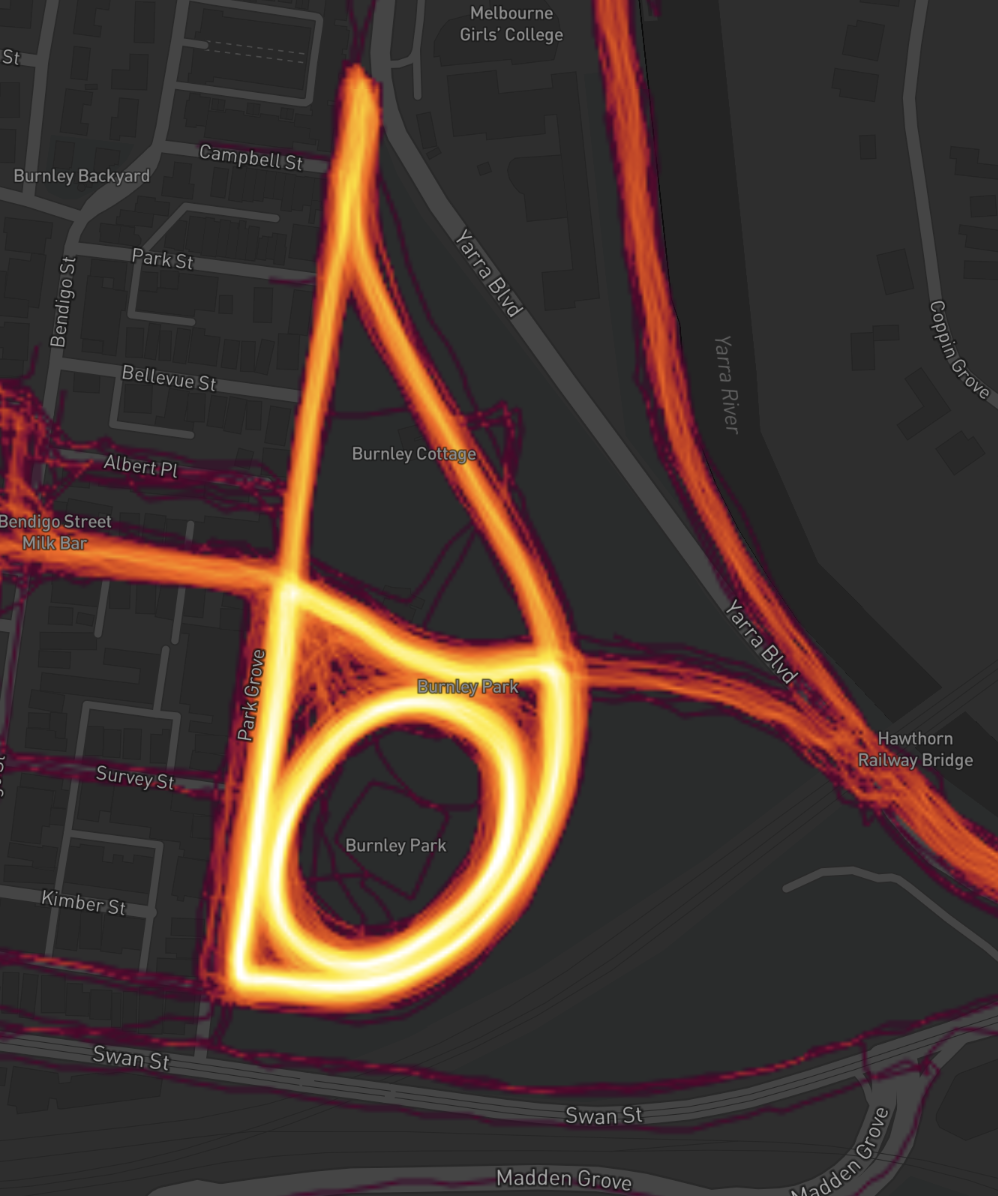 With that in mind I started doing a lot of laps of Burnley Park oval. A lot of laps. 3 runs a week. I had to repeat several weeks at the start, but otherwise I was progressing.
Then about half way through the program, one night I woke up in immense pain. It was painful to move, even breathe. I booked a doctor's appointment and tried to get back to sleep. I wrote on Discord that morning:
I don't know what a broken rib feels like, but it feels like that
The doctor requested I visit in person to check it wasn't a heart attack but the final diagnosis was costochondritis. Costochondritis is a fun little thing where the cartilage in your ribs basically says "fuck you" and inflames. It's unlikely it was related to running however it took about 3-4 weeks before I could run again. I lost a little bit of progress but onwards I kept going.
On the 1st of April 2022 I hit 5km running with a pace around 7min/km. This was a big achievement for me. I had also lost about 6kg of weight - but this was mostly from removing comfort food from my diet.
I kept up running roughly 3 days a week and slowly improving my time.
Melbourne Marathon Festival
Some of my friends were entering the Melbourne Marathon Festival Half Marathon races, and while browsing the site I noticed that they had a 5km race. The cut off times were very relaxed and I would easily be able to qualify. At the last minute I decided to enter.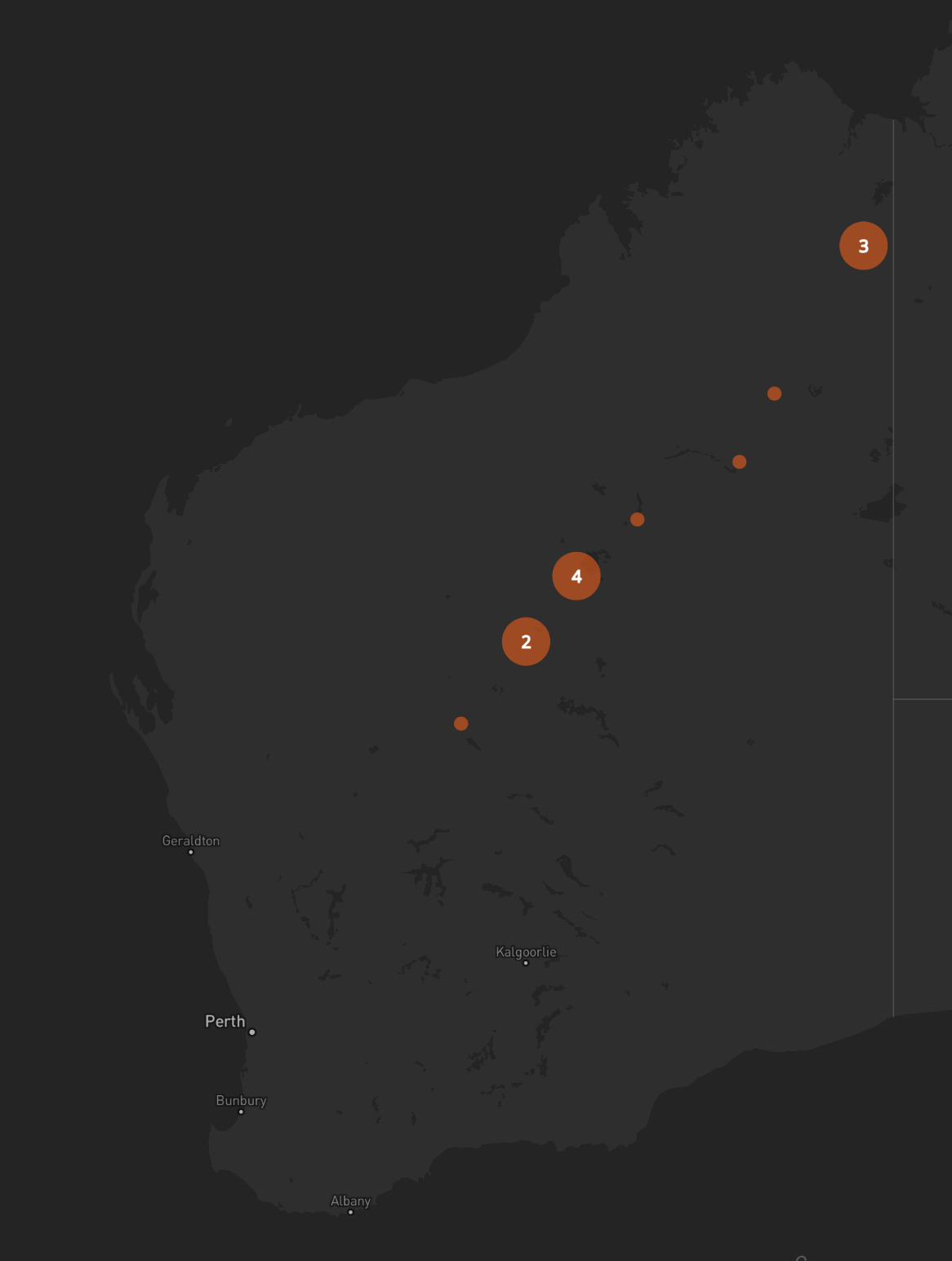 Unfortunately the timing didn't work out so well. All of July was wiped out due to recovering from COVID. August, I tried to run however running in the desert (we were doing the CSR trip) was hard and dangerous. And sometime in September I also received the MPX vaccine which impacted my training a bit.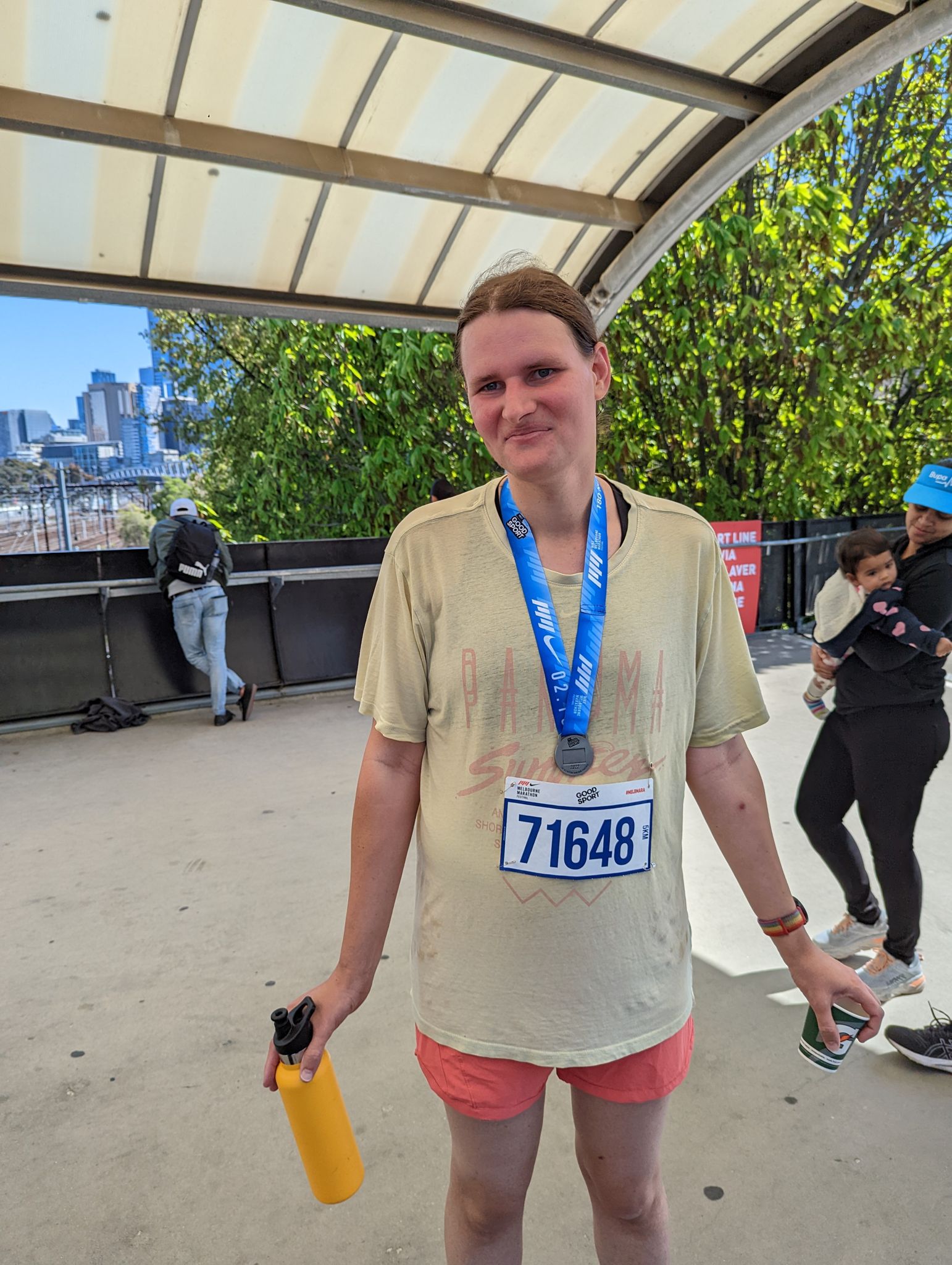 Regardless of this I still entered, ran, and was able to get a 5km PB time of 30:23. I'm still shocked that I entered and finished a running race.
Now and the future
Sometime in January 2023 during a run I just decided to keep running which eventually turned into a half marathon. It contained some walking sections but it was technically my first half marathon. Up until this point I hadn't really noticed scoliosis impacting my running ability but it did present itself on this much longer run.
Even with the back pain this gave me enough confidence that I could run a half marathon with some additional training and decided to enter the Melbourne Marathon Festival Half Marathon. By completing longer runs my back is seemingly much more resilient. I'm guessing this is due to improved running style, shoes and strengthening of back muscles. Just over a week ago I completed a first half marathon running the entire way - 2:12:03. I look forward to seeing how I go in the actual race.
I've also been doing a lot more Parkruns. Even if you just want to walk the 5km, Parkruns are pretty cool and fun to do with a group of friends. I recently did the Albert Park Parkrun in fursuit for fun.
Tips for new runners
I'm not a trainer or anything like that but I seemingly have convinced two others to start running this year.
First up - work out if running is for you. You don't need to rush to buy fancy running shoes or gear straight away if you start off on grass. Just make sure you have decent socks.
Don't run if you're hurt - it'll delay recovery or you could injure yourself more.
Sometimes runs go bad. Don't dwell on it, just keep trying.
There's always someone faster than you. Try to beat your time, not someone else's.
Keep an eye on the UV index during summer.
My gear
I've been tracking all my runs with the fēnix 6S Pro. I really love this watch - it's good watch and a good activity tracker. I recommend recording all your activities to show your improvement over time.
Watch: fēnix 6S Pro (if you are going to buy any Garmin gear, wait until it is on sale - they go on sale every second week)
Shoes: New Balance Hierro v7 (for dirt and long runs) / New Balance 1080v12 (these give me blisters for runs over 10km otherwise these are very soft and comfortable)
Tights: Nike Fast Women's Mid-Rise Running Shorts
Bra: Nike Swoosh Women's Medium-Support (these have been working well, though on half marathons there is a little rubbing at the center of my chest)
Top: Nike Dri-FIT One Elastika Women's Standard Fit Tank
Acknowledgements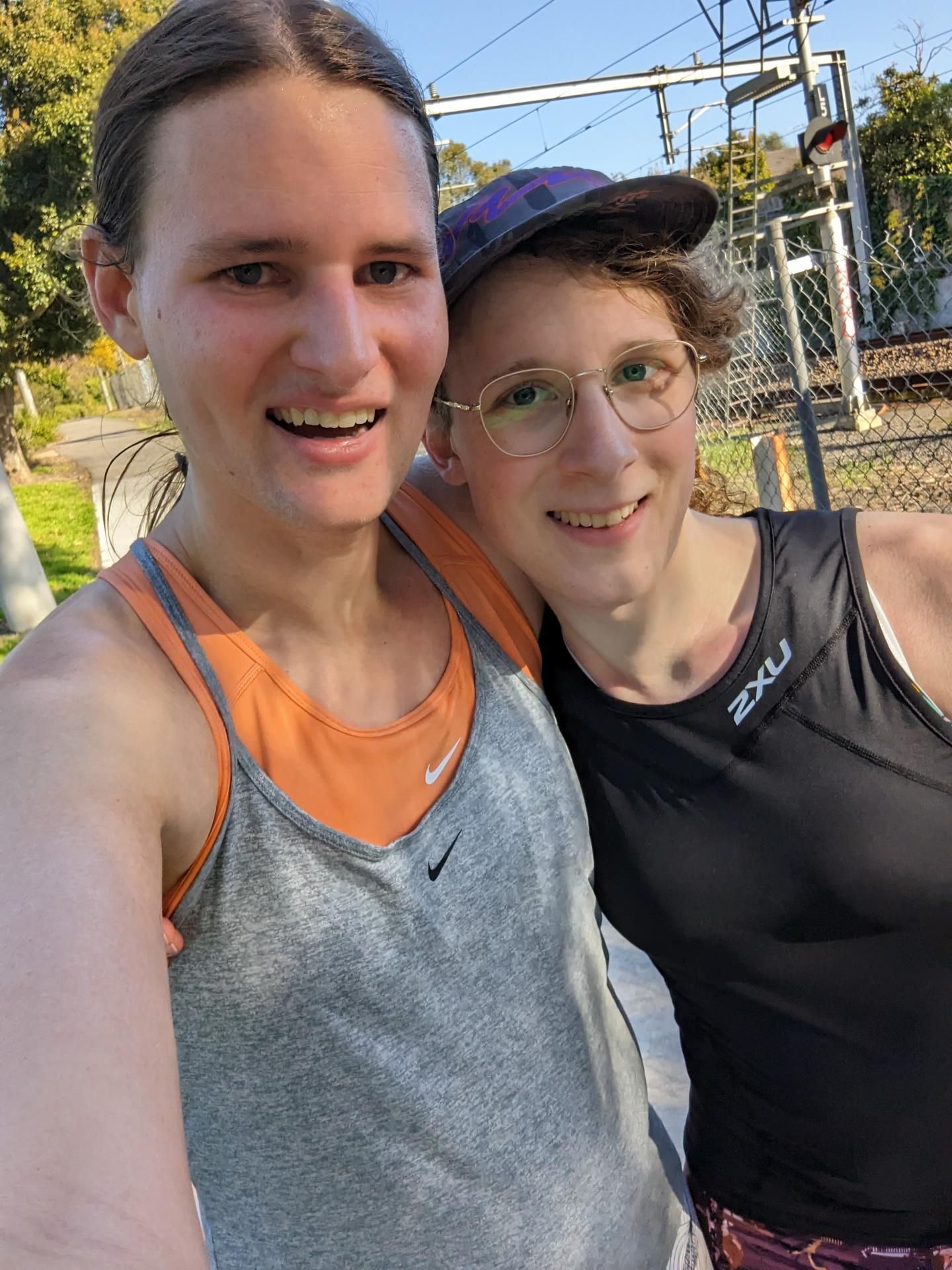 I need to acknowledge Alex Helvetica for encouraging me this entire time running and joining me on some amazing runs.