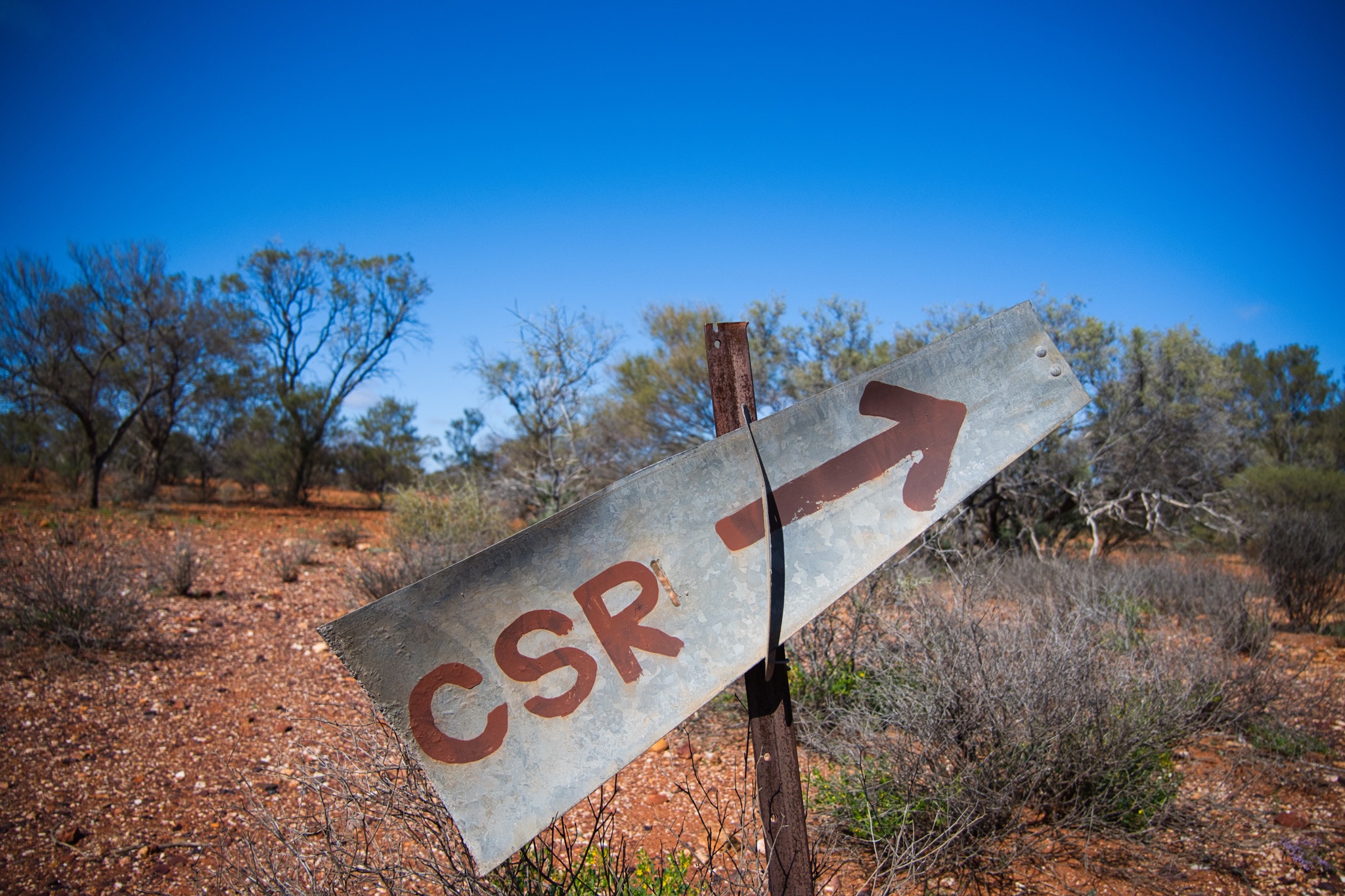 I've decided to publish my journal on the CSR trip - a roughly 1,800km journey through outback Western Australia. There are no services (phone, fuel, towns) with the exception of Kunawarritiji roadhouse which provides a basic store, water and fuel. The route is almost entirely sandy dune crossings with some rocky sections. It's deemed one of the toughest off-road trips one could adventure on.
Before we begin though I think it's important to recongise that like most modern Australian history, it's plagued with racist, violent and inhumane treatment of Australia's land owners. Cannings treatment of the indigenous people is inexcusable and this trip is not about remembering Cannings legacy. Throughout my journals I'll be referring to the CSR in acronyms only. Rusty (a traveler in our convoy) suggested it be renamed "Corrugated Stock Route".
It's also important to note that the places we visited to the best of our knowledge are accessible under our permits for the time, however certain sites open and close over time.
So if it's not about remembering Canning, what is this trip about?
Completing the CSR for me serves several purposes. The most important being worry free. Once you enter the CSR you are completely offline. To an extent world events can't even stop you. Even if they close the CSR while your on it, you likely wouldn't know until you finished it. It's also not a short trip - with 1,800 km to travel (though we did about 2,030km with the side trips we added) and only being able to do a ~100-200km a day it provides plenty of time to stop worrying about everything else in the world.
The next important thing is exploring Western Australia. I've spent probably the least amount of time in this state and the CSR seems like the best way to see some of the best that Western Australia has to offer.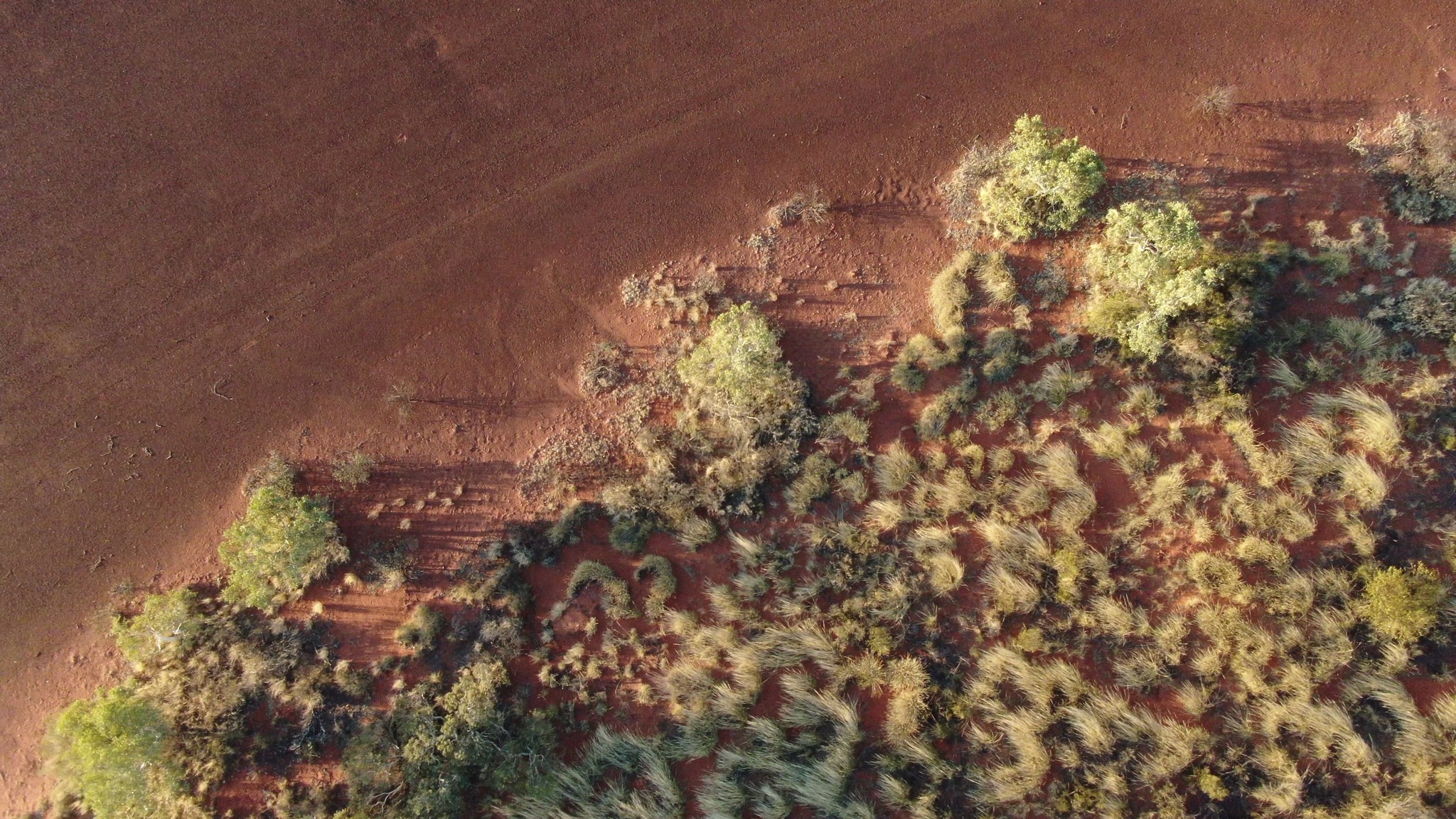 Finally there's a technical pursuit. Can our car, equipment, radios and even ourselves hold up to the challenging environment.
How do you even?
This post most certainly isn't going act as a how-to, but I think it's worth mention some of the technical requirements of this trip to give an idea of the scale and planning required.
Most of doing the CSR is about logistics. Driving the CSR is the easy part, the prep work for the CSR is the hard part. If your not prepared it's easy to loose your car or even your life out there.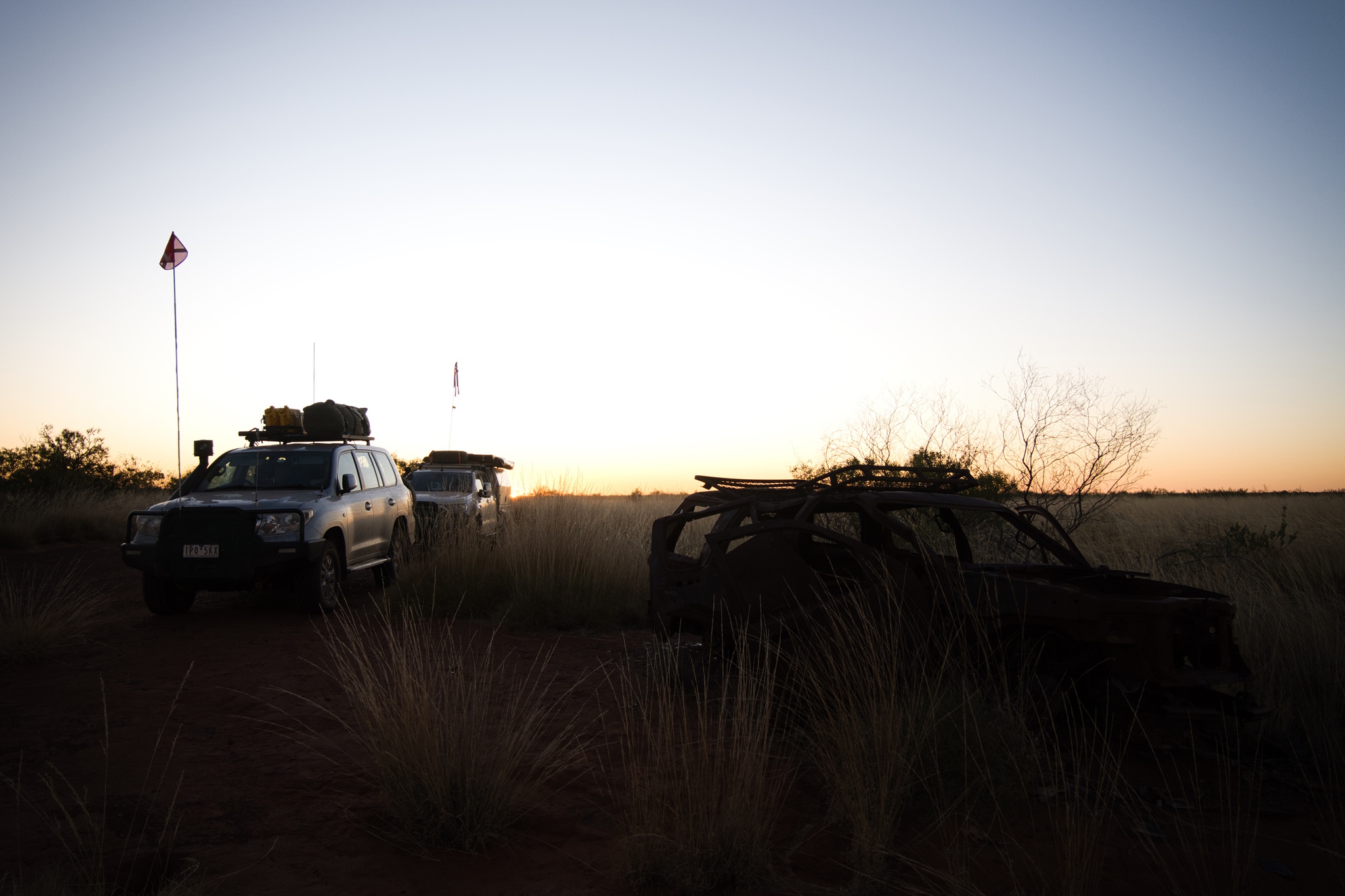 Fuel
The most important is probably fuel. Leading up to the trip we did many smaller trips with similar terrain as the CSR. This gave us a rough idea of fuel usage in sandy dune covered tracks. Naturally we added some buffer to this and came up with 138L on board tank + 7 jerry cans (140L). Think about where you'd store 7 jerry cans on your car. Now work out how much weight your car can carry (GVM).
Water
Water is also important! There are two problems with water - how much to store and how to use well water. The CSR has many restored wells that you can use along the trip. Most of these are fine to drink after boiling or you can use something like an MSR Guardian to filter the water. We decided to carry roughly 80L of water and rely of filtering some well water along the way.
Food
For the first few days you can eat your normal camping meals with perishables (bread, salad, eggs, veggies) but eventually you'll run out or they'll go bad. We have a Engel fridge/freezer, so we ended up freezing a lot of meat and cheese. A lot of produce can be found in cans - like peas/corns/carrots and potatos. The biggest problem though with food is storing it all. You need to keep a buffer of food if you get stuck. We ended up with about 4 weeks of food, and storing it all was challenging. One of our storage tubs ended up being filled mostly with corn chips. You also need to be able to cook it! That means bringing all your required cooking equipment, stove, gas bottle.
Rusty's setup was very different from ours - 30 frozen meals, a freezer, and a microwave running off an inverter and battery system. Pretty jealous of this setup.
Communications
Number one requirement of this trip is packing a PLB. There is no cell service out here, if someone is in a life threatening emergency this is the best chance of survival.
For non emergencies though, sometimes it's good to keep in touch with people to let them know your ok. We have APRS on HF radio to let people track where we are, and a scheduled HF contact. The scheduled HF contact serves to talk about the trip and less so about world events happening - so even though you have a way of talking to the rest of the world, it doesn't shatter that disconnected feeling.
We also used WinLink for short messages to friends and family and send compressed pictures to Twitter for fun.
Rusty also has a Garmin InReach which allows for GPS tracking, short messages and weather updates (though I don't trust the weather updates out here as BoM just has this listed as one big "Northern Interior" region which covers most of the state)
Waste disposal
Think about all the waste you create when you prepare a meal. Tins, glass bottles, wrappers. So many little things. There are no bins on the CSR. Nowhere to dump rubbish. Everything you take in you must take out. Some stuff you can burn - like paper boxes - but you end up having to carry a lot of rubbish. We have a canvas rubbish bag that fits over our spare tyre - even with this we are careful not to generate too much waste.
Camping meals
If we take what we learnt about above meals, water, and waste. Think about cooking some Rigatoni pasta. We have to store a large packet of pasta, taking up valuable space, to cook it we need a large amount of water, we need enough gas to boil the water and our pasta sauce likely comes in a glass jar.
While pasta makes for a great easy camping meal, it makes for a terrible CSR meal.
Getting there and back
Just travelling to the CSR from Melbourne is a journey in itself. We spent 3 days just to get to Wiluna, the start of the CSR, and we'll have travelled even more getting back.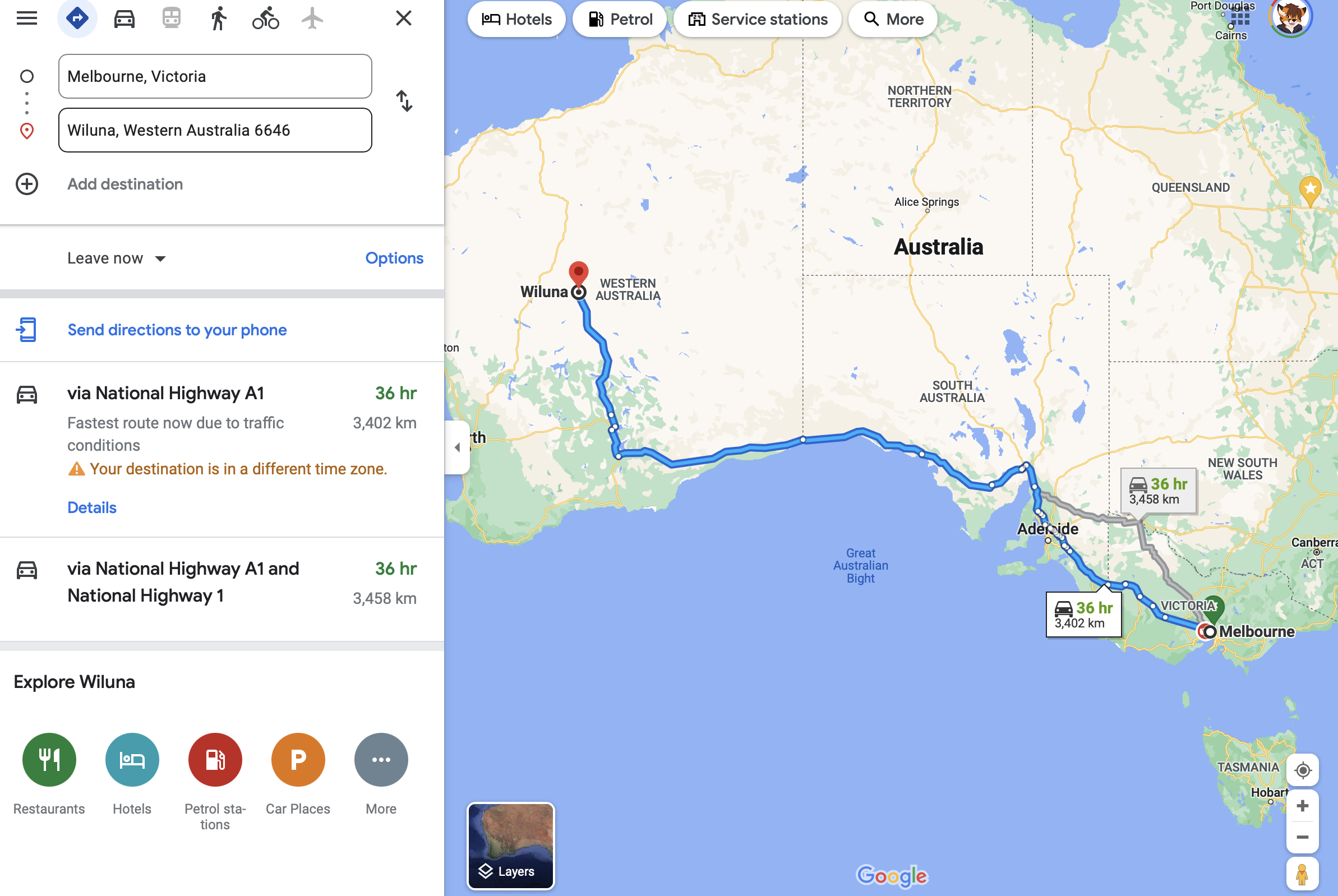 Should I read your journals?
Short answer. I don't know. They are fairly brief descriptions of what I found interesting, how I felt and what we did that day. It doesn't cover everything, and shouldn't be treated as some sort of travel guide.
I'll include a couple of photos that I took along the way with each post, so even if you don't find the text that interesting, you might enjoy the photos.